Our Story
In 1998 Trinity opened its doors and launched its journey to bring education to the people of Uganda. The passion for keeping the memory of why we started alive, mixed with the constant innovation and search for new perspective have been and will continue to be the main ingredients in a recipe bound for success.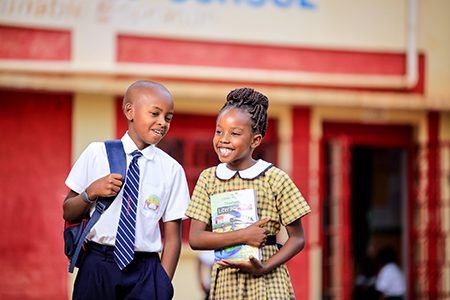 At Trinity, we are committed to a three-fold path of supportive education designed to give our pupils the confidence to take on new challenges and achieve their full potential. We provide each child with a stimulating and supportive learning environment which celebrates their uniqueness and capabilities.
We value thought-provoking teaching practices, the latest curriculum and wide-ranging extra-curricular activities that will inspire each child to utilize spaces both inside and outside the classroom and develop skills that will last for life.
Every child is guided in ethical and social behavior in every detail or activity on the daily and annual school calendar. We strive above all to create socially responsible citizens for the Uganda of tomorrow.
Fearing God

Discipline

Integrity

Compassion

A commitment to Excellence and Quality

Respect and Preservation of Nature

Parent, Teacher & Student Collaboration